Upcoming Events and Programming
November 2, 2019
The mystery begins at 7:30 PM…
a thrilling murder mystery game - open bar cocktails & wines - sweet & savory bites - exclusive access to mansion behind the scenes - music & dancing - moonlit garden - period costume atmosphere - networking & meeting new friends - a night of secrets & intrigue
The year is a rowdy 1924, and you are cordially invited to the rather enchanting post-All-Hallow's Eve Soiree thrown by the mysterious Miss Elizabeth Montgomery Sharpe, heir to an eerily-substantial fortune, who has established herself as a hostess of great parties at her home estate, Woodlawn. The 1805 Mansion is rumored to be haunted, and despite Prohibition, spirits of all kinds will flow, along with savory and sweet treats.
We have some tricks up our sleeves, so expect to be surprised and, while you are at it, hone your sleuthing skills, because there could be a rather unexpected puzzle to be solved in our candlelit halls. Era-specific costumes and cocktail attire are optional, but are very much encouraged. It is going to the best fright, ooops we mean, night, of the year and you are going to want to be there!
If you dare to come, your invitation to this most important fundraiser (we have to protect those ghosts after all) includes our Mansion mystery "game," as well as tasty bites and signature cocktails, wine and beer in the Speakeasy tent by Design Cuisine, our exclusive, top-of-the-line caterers. Invite holders will receive more instructions post-purchase. Scared to have such a good time? Good. An evening like no other awaits!
THANK YOU TO OUR 2019 SPONSORS!
SHARP(E) SHOOTER
SUPREME SLEUTH
Christina Canova
Solo Flooring
SPONSORSHIP BENEFITS 2019 SMOKE & MIRRORS
Sponsorship of our first Smoke & Mirrors Mystery Soiree Fundraiser at Woodlawn offers you an ideal opportunity to reach over 150 local event guests while supporting our non-profit historic venue.
On November 2, we are turning our (supposedly haunted) Mansion and event areas into an eerily great mischievous mystery experience, and we would love for you to be a part.
Woodlawn was once the house of George Washington's granddaughter Nelly Custis, then the site of an extraordinary transformation from plantation to diverse and inclusive free colony, and the first property operated by the prestigious National Trust for Historic Preservation. Its history is deep, diverse and rather extraordinary. The Woodlawn & Pope-Leighey House site now boasts two iconic, magnificent, historic houses, an expanding exhibit program, an extraordinary event experience, now hosting more than 30 weddings and corporate outings a year, and a home for Arcadia Farm: all make up a true breath of fresh air among the bustling Route 1 corridor. Unique events at our site, such as the largest Needlework Show on the east coast, and contemporary art exhibits such as our Makers In The Mansion project have expanded our audience demographic and deepened our narrative. Although our newest fundraiser is based on the Woodlawn historic area, your support and listing will also be seen by guests who come and visit our Frank Lloyd Wright house. It is a win-win! In just a few years, Woodlawn & Pope-Leighey will also be home to a new Center for Sustainable Agriculture, powered by non-profit partner Arcadia Food.
Be a part of the new Woodlawn & Pope-Leighey- a place where area residents and tourists alike will come to experience their full history, to enjoy our prestigious events, and to just "be". Your support that evening will help us continue our inspirational programming, to help us protect and preserve our historic footprint, to expand and make everything we do more relevant to our community and beyond. We host more than 14,000 visitors each season, and just in the last few months have been the subject of blogs by WETA and the Washington Post. Where Magazine just listed us as one of "9 Historic Houses Not to Miss". At Smoke & Mirrors, guests will experience our property in an entirely new light. Through our partners and exclusive relationships with top-rated businesses such as Design Cuisine, we offer a high- level participation for anyone who visits. Guests who visit us on November 2 will be getting ready for the 2020 Smoke & Mirrors by the time they leave. We want you to be a part!
Smoke & Mirrors sponsorship includes benefits found nowhere else, including tickets to the events, use of our event space, and private tours of our estate We believe that Smoke & Mirrors provides an unmatched way to support your community, entertain your own clients, build awareness of our mutual American histories and engage your staff in our growing, re-imagined property. Note: only sponsor ticket holders will be able to make use of table space in the Mansion.
$6,000 Haunted House Presenting Sponsor
Eight(8) Smoke & Mirrors tickets and reserved table in both Woodlawn and Speakeasy Tent for your group.
Complementary event rental (up to six hours) of Woodlawn's Underwood Room (catering not provided). Date by mutual agreement. Our beautiful, updated historic room, with attached serving areas accommodates 40 people seated, 60 cocktail-style (A $1,500 value.)
Prominent logo and credit line recognition and emphasis in all promotional materials for Smoke & Mirrors including press releases, website (plus link), email blasts, and on-site signage. Sponsor website listing/link will continue for one calendar year.
Private tour of Woodlawn & Pope-Leighey House for up to 15 people . Date by mutual agreement.
$2500 of this sponsorship donation is tax-deductible.
Interested in this level of sponsorship? Please email our Site Director Amanda Phillips at aphillips@savingplaces.org to learn more!
$1,000 Sharp(e) Shooter Supporting Sponsor
Four (4) Smoke & Mirrors tickets and shared table seating in Woodlawn and Speakeasy Tent for your group.
Prominent logo and credit line recognition and emphasis in all promotional materials for Smoke & Mirrors including press releases, website (plus link), email blasts, and on-site signage. Sponsor website listing/link will continue until end of the season.
Eight (8) Combo House tour tickets of Woodlawn & Pope-Leighey House.
$500 of this sponsorship donation is tax-deductible.
$500 Supreme Sleuth Sponsor
Two (2) Smoke and Mirrors tickets and shared table seating in Woodlawn and Speakasy Tent.
Credit line recognition in promotional materials for Smoke & Mirrors including advertisements, invitation, press releases, website, and on-site signage
Four (4) Combo House tour tickets of Woodlawn & Pope-Leighey House
$200 of this sponsorship donation is tax-deductible.
Picnic Theatre Company Presents: The Great Gatsby
On Wednesday June 19, be transported to the mansion of mysterious multimillionaire Jay Gatsby for a summer party! Picnic Theatre Company returns to Woodlawn Mansion garden for a Roaring Twenties cocktail hour, music and live action one- act performance of F. Scott Fitzgerald's The Great Gatsby.
Join us in the Woodlawn Mansion fountain garden for drinks, a picnic, and a wild theatrical romp! At 5:30pm the garden opens for cocktails and picnicking, performance is at 6:30 pm, with no intermission.
We will have drinks for sale to accompany the picnic dinner you have brought from home. Or, dinner is on us – purchase a pre-packaged picnic dinner and we will have it waiting for you! Dinner options will be sent to all attendees a few weeks before the event.

Pass the Plate Potluck - A Cross Cultural, Heritage Inspired Dinner
October 4, 2018 at 6:45 PM
Share the food of your family at our casual, unique, potluck dinner that is open to guests of all heritages, inspired by our current Makers In The Mansion exhibit. Each guest, or group of guests, as part of their participation will be asked to bring a dish which highlights their own family story.
Gather with us this October in our historic garden for a delightful and delicious dinner where everyone is welcome, featuring culinary foodways historian and cookbook author, Michael Twitty, as well as the artisans of our current art exhibit, Makers In The Mansion!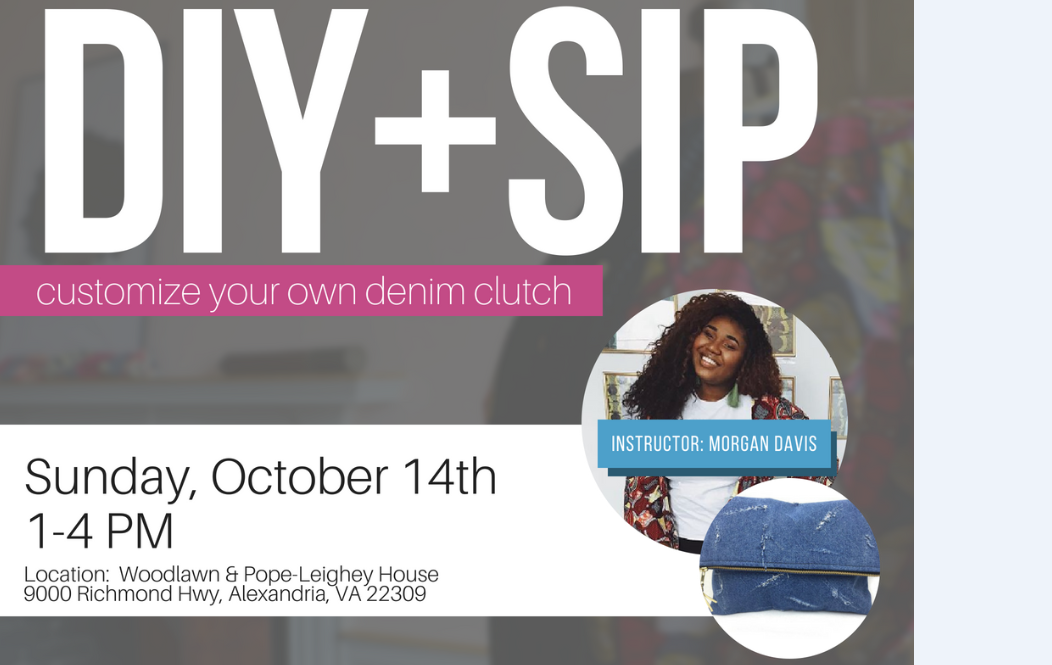 DIY + Sip: Custom Denim Clutches
Join featured maker Morgan Davis for an afternoon of "Diy + Sip" on Sunday, October 14th from 1-4 PM where attendees will be able to customize their own denim clutch using ankara fabric, embellishments, patches, paint, embroidery, and more!
Tickets include one foldover denim clutch (with ankara lining), all supplies, two glasses of wine, and light refreshments. This event is 21+
Uncovering the Craftsmen of Woodlawn Plantation – African laborers and the building of Woodlawn
October 22, 2018 at 7:00 PM
Join us for this informative look at the history of Woodlawn's building and grounds! The lecture will examine Black free and enslaved labor that might have contributed to the clearing of the land and construction of Woodlawn.
This lecture will be led by Michele L. Simms-Burton, PhD, who is a retired professor of African American Studies. She has traveled the world delivering lectures on the African diaspora.
Hadiya Williams | "More than a Notion" Artist Talk X BPP Pop Up
September 30, 2018 at 1:00 PM
Artist Talk X Black Pepper Paperie Pop Up
Artist talk at 3PM - TICKETS ARE NEEDED FOR 3PM ARTIST TALK ONLY - Pop-Up Shop will be open to all who come!
Hadiya Williams and co-collaborator Risikat "Kat" Okedeyi will engage in dialogue on the process of creating Layers, the installation in the Woodlawn dining room.In a one-on-one conversation, the two will share how the idea came to be, the spiritual connection to the project and the overall go of the installation. A pop-up shop featuring similar items included in the installation and Hadiya's wearable art will also be available for sale.
Tickets to Artist Talk are free - Please CLICK HERE and RSVP!
SANCTUARY- The community of Gum Springs, a haven in a weary land
September 26, 2018 at 7:00 PM
Gum Springs is the oldest African American Community in Fairfax County, was formally established in 1833. West Ford, a former slave, founded the community after being freed by George Washington. The community became a sanctuary for freedmen and runaways. The triumph of the community is in the people the families, the intuitions which enabled it to be in continuum. Come discover the journey of the community of Gum Springs!
This lecture will be led by Ron Chase, who is the Founder/Director of the Gum Springs Museum.
Artist Talk: Sandy Hassan "My Journey with Fabric"
September 16, 2018 at 3:00 PM
Join one of our featured Makers in the Mansion, Sandy Barrett Hassan, for a discussion about her current installation at Woodlawn, and about her life as a quilter.
She will discuss the following:Fabric, Tools, Color, Techniques and Styles, Paper piecing, Stack and Wack, New York Beauties, Portraits, Crazy quilts, Geometrics, Political quilts, Books - Communion of the Spirits and Spirits of the Cloth, Quilt guilds, Fabric Crafts and Accessories.
Indigo Fabric Dying Workshop with Njena Surae Jarvis
September 19, 2018 at 12:00 PM
Learn how to dye fabrics with natural indigo dye, and create stunning patterns! Njena Surae Jarvis, one of our featured Makers in the Mansion, will show you how she created the fabrics used in her installation in the mansion.
Please bring items you want to dye, small items such as t-shirts, pillowcases, jeans, socks, silk scarfs, etc.
Vats of indigo and tying material will be provided. Learn how to prepare a vat with pre-reduced indigo crystals and a few different tying methods!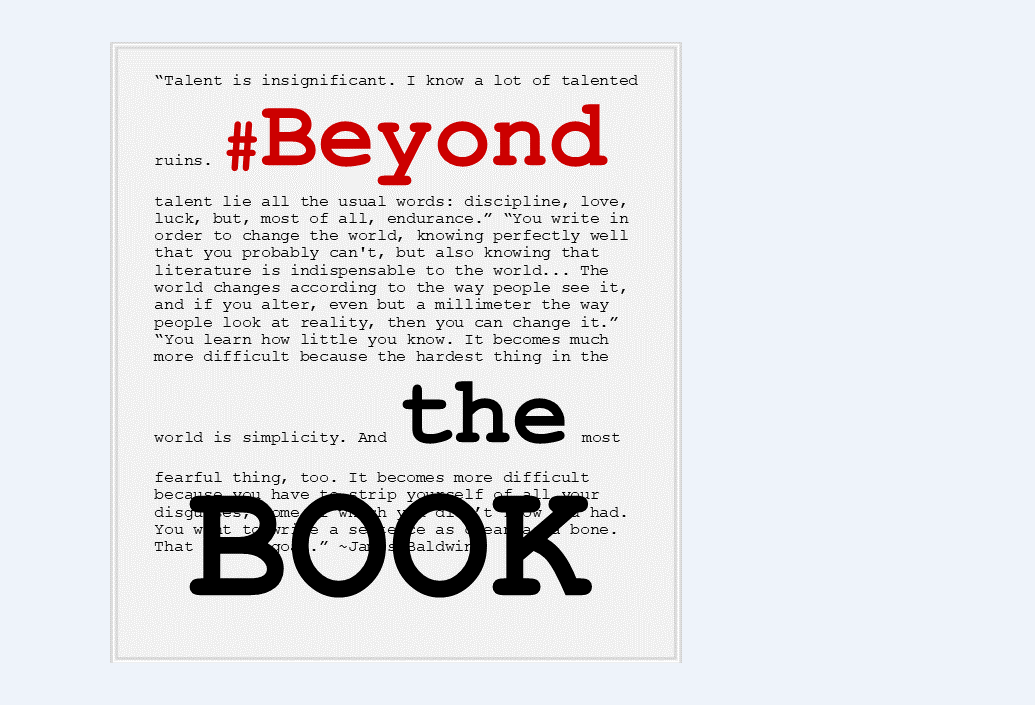 #BEYONDTHEBOOKA Marketing and Branding Workshop for Poets
September 9, 2018 at 1:00 PM
You've written the perfect manuscript that includes your best poems. Now what?
This workshop is led by Woodlawn 2018 Makers in the Mansion Writer-in-Residence Cherryl T. Cooley. Poets will brainstorm ideas for how to put their poems in places other than books. We will look at ways that other poets have succeeded at this and create a solid plan for one or two of your poems. This is a exploration of marketing and branding for contemporary poets, but it is also a chance for you to consider your body of work and start shaping how it will impact your community and the world.
Artist Talk : Antonio McAfee
September 7, 2018 at 6:30 PM
Join one of our featured Makers in the Mansion, Antonio McAfee, for a discussion about his current installation at Woodlawn, titled "Unmaking and Making/Variations of Figures".
Antonio McAfee's work addresses the complexity of representation. Through appropriating and manipulating historical portraits, he engages in prescribed views of individuals and rework images to provide an alternate - more layered image and concept of the people depicted. His photographs oscillate between formal considerations (modifying the print's surface) and imaginary potential (establishing new back stories and roles) of the photographed sitters. Antonio currently teaches at American University.
Lecture: African American Community at Woodlawn
August 28, 2018 at 7:00 PM
Join us for "The African American Community of Woodlawn: Discovering a Historic Free African American Community among Antislavery Quakers" This talk is led by Martha Claire Catlin, the Historian for the Alexandria Quaker Meeting at Woodlawn. Her current research emphasis is on the Woodlawn settlements of antislavery Quakers and African Americans of the pre-Civil War and 19th century eras.
Nicole Crowder - Upholstery Workshop
August 9, 2018 at 1:00 PM
Nicole's upholstery courses look to give upholstery and home decor enthusiasts basic skills and tips on how to approach small projects like chairs, benches, and ottomans, with the hopes of empowering you with confidence to tackle even larger projects at home!
The Picnic Theatre Company Presents: The Importance of Being Earnest
June 20th, Taking place in the Woodlawn Mansion Fountain Garden - Garden opens at 5:30, show at 7:00
Oscar Wilde's wildly entertaining 1895 comedy "The Importance of Being Earnest: A Trivial Comedy for Serious People" features two carefree bachelors, each with a carefully hidden double life that quickly unravels. Silliness ensues with jealous fiancées, whimsical ingénues, scheming society matrons, and the most famous handbag in theater history. Join Picnic Theatre Company at Woodlawn for a garden cocktail party and one-act performance of the play that the London Telegraph calls "the most perfect comedy in the English language." Bring your own picnic or order one from us! Come at 5:30PM to grab a drink and enjoy our garden while you picnic, and the show begins at 7PM! Rain or shine, tented if rain.
The Picnic Theatre Company Presents: An Evening in the Twilight Zone
November 1st, 6:30 to 8:30 PM
Picnic Theatre Company returns to Woodlawn Estate for seasonal cocktail party theatre on November 1 with An Evening in The Twilight Zone: A Parody! Experience three short episodes of classic 1950s sci-fi suspense, exploring themes of Cold War fears in American suburbia; artificial intelligence for daily living; and the promise and peril of contact with alien civilizations, along with hilarious actual advertisements from a bygone era.
Enjoy wine and refreshments and be transported to another time and dimension at Woodlawn! 6:30 cocktail reception, 7:30 one hour performance.
Directed by Steve Rochlin
Cast: Nurith Aizenman * Nova Daly* Chris Fowler* Charles Kovatch* Daniela McInerney* Antonio Olivo* Steve Rochlin * Kevin Rooney * Christina Sevilla *Matt Stoller
Proceeds benefit Woodlawn Pope-Leighey House preservation and programs.
Price: $15
Washington, Whiskey, and Woodlawn Tour: Dogue Run Farm Exclusive Experience
Location: George Washington's Distillery & Woodlawn
October 15th, 1:00 p.m. to 6:00 p.m.
Enjoy private guided tours of the George Washington's Distillery & Gristmill site and Woodlawn during this special fall partner tour!
Watch demonstrations of the Gristmill's operating system, and the distillers in action as they make apple brandy and sample the unique Mount Vernon whiskey.

From the Distillery & Gristmill, guests will drive to Woodlawn, the home of Martha Washington's granddaughter, Eleanor "Nelly" Parke Custis and her husband, Lawrence Lewis. At Woodlawn, guests can tour the mansion, as well as walk through Arcadia's educational farm and enjoy a historic cocktail created by Element Shrub with seasonal light bites from Rouge Fine Catering.

Learn more about the connection between Woodlawn and Mount Vernon, as well as gain a greater understanding of how this area once operated as one of Washington's five farms.

Schedule:
1:00 p.m. -- 4:00 p.m.: Tours of George Washington's Distillery & Gristmill with private tastings on the second floor of each building. Timed tickets for entrance to both sites.
2:00 p.m. -- 5:00 p.m.: Tours of Woodlawn & Arcadia farm. Event ends at 6:00 p.m.

Price: $25 per person